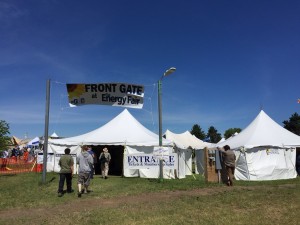 Bob and Diane Jorgensen recently attended the energy fair in Custer, WI. The energy fair was founded by the Midwest Renewable Energy Association over 25 years ago. The huge event covered 3 days, June 19th – 21st . There were more than 20,000 attendees over those 3 days. If you are interested in anything associated with the environment it is at the fair.
Bob and Diane enjoyed browsing the booths of more than 200 vendors. These vendors have items for sale, or information to pass on to attendees. Some things for sale were solar ovens, solar photo voltaic panels, local organic honey, natural soaps, window blankets, and small family sized wind turbines. There is also a wide range of information from environmental justice to environmental laws being passed in congress.
One of the main draws, at least for Bob & Diane, are the 225 plus interesting workshops, you can attend. Each workshop lasts about 50 min. and are held in huge water proof tents that can hold about 75 people each. Some of our favorite workshops this year included a class on how to write letters to your congressional representatives, how to transform your yard from a grass hog to an environmentally sustainable garden of vegetables and native plants, climate justice, ethics and activism, and community solar.
There are also some demonstrations on things like converting your car into a car that runs on used cooking oil, or into an electric vehicle, how to cook healthy, or how to build an energy efficient house using bales of straw as the insulation material as well as the frame.
Finally there is also a special tent with activities for children. So you can bring your whole family along and there will be something for everyone.
If you would be interested in finding more information about the fair, the MREA, or other environmental information, go to the MREA website, www.midwestrenew.org