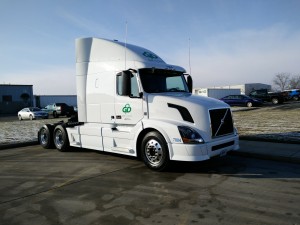 by Linda Tiller, an EP Green member
G&D Integrated, a provider of transportation and logistics services based in Morton, has recently taken a large step toward improving their carbon foot print. They will be purchasing up to 94 new trucks within the year.
G&D is a partner carrier registered with Smart Way. Smart Way is the US Environmental Protection Agency's program for improving fuel efficiency and reducing greenhouse gases and air pollution from the transportation supply chain industry. Per the EPA.gov website "Smart Way Transportation aims to increase the availability of fuel efficient technologies and strategies that help freight companies same money while also reducing adverse environmental impacts"
The new fleet will consist of Volvo's with the XE package (exceptional efficiency), one of the highest rated trucks on the market. They are equipped with a full aero package and aluminum wheels, to help with air flow and weight. They also have an on board generator, this allows the driver, when in the sleeper birth, to run the thermostatically controlled generator for heat and air conditioning without idling the truck, saving fuel.   Idling the truck burns 1 gallon per hour of fuel, where the generator only uses 1 pint per hour, 1/8 the amount. In addition they are equipped with an automatic I shift averaging 7 miles per gallon, over the current trucks averaging 5 ½ miles per gallon. It doesn't sound like a lot but when you consider G&D drives over 22 million miles yearly, it adds up fast.
In preparation for purchasing new trucks, G&D did the home work and put 5 of the trucks on the road in their southeast division in Dec of 2012. After seeing the improvement in fuel consumption and performance the decision was made to go ahead with the purchase for the Midwest fleet. Fuel economy is not obtain with lose of power; they have 13 liter engines, with 425 horse power, and 1750 feet of torque.