What can I do with larger items such as couches, stoves, etc.?
Large Metal Items –
Large metal items can be taken to local scrap yards. Other disposal sites:
Tazewell Refuse and Disposal Facility (309) 694-0295
Peoria County Landfill (309) 565-4281
White Goods – TNT Recycling (309) 635-4642
Call to verify what items can be taken and for costs associated for disposal.
Landscape Collection –
Residents in East Peoria must contract through Waste Management. Call (800) 796-9696 for further information.
Brush Collection Tree Services –
Services are listed in the phone book
Metal –
A. Miller (309) 674-1101
Behr (309) 637-4422
Other Recycling Information
E-Waste – ATR 309-691-7230
Monday – Friday 2:30 – 5:00 p.m.
No TV's or Monitors but all else. 10 items no charge.
Kuusakoski 309-691-5105
Monday – Friday 7:00 a.m. – 3:00 p.m.
one TV only all else no charge.
M & M 309-495-0995
Monday – Friday 9:00 a.m. – 4:00 p.m.
No TV's or monitors/ no limit on all else, no charge
Retro Tech 309-682-0675
Monday – Friday 10:00 a.m. – 5:00 p.m.
No TV's / no limit on all else, no charge
Waste Management – NOTHING
Best Buy 309-689-0277
Monday – Friday 10:00 a.m. – 6:00p.m.
No TV's or monitors / takes everything else
Visit the Illinois Electronic Waste Management Program for more complete information.
Asphalt Shingles
Asphalt shingles can be recycled at
Southwind RAS
6616 S. Darst St.
Peoria, IL 61604
630-380-4171
The shingles will be recycled into asphalt for road repair and construction. The used shingle loads must be free of wood and contain a minimum amount of plastic and cardboard. It is ok to have nails in with the old shingles. Nails will be taken out and the metal recycled. There is a minimum fee for each load accepted by Southwind. Their e-mail addresses are on their contact page. Their hours of operation are 7 a.m. – 4 p.m. Monday – Friday.

705 West Camp St., East Peoria, IL 61611
Phone: 309-694-0639
Manager: Bob Miller
Of special interest, they sell new energy efficient light bulbs as well as recycle light bulbs and batteries of all sizes from residences.
Only TV's, VCR's, Computers and Monitors to:
Tazewell County Transfer Station
3550 East Washington Ave, East Peoria, IL
Phone: (309) 694-0295
Going Green Computers
716 Derby St, Pekin, IL
Phone: (309) 241-2229
Working TV's and VCR's can go to a local Goodwill store.
East Peoria Solid Waste & Recycling Information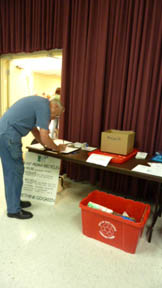 The City of East Peoria is now selling toters: The dimensions for the 96 gallons toters are 46 3/8' wide. Height, 33 3/4" deep and 26 3/8" wide. Dimensions for the 38 gallons are 38 ½" height, 22 ¼" deep and 19" wide. For current pricing information please call (309) 698-4716. Toters are delivered within 3 to 4 business days from purchase.
Before you purchase a toter from an area merchant, please call to ensure it is compatible to our equipment. You may also lease these containers from Waste management Inc. by calling 1-800-796-9696 for more information.
City wide cleanup weeks are scheduled for 1st full week of may and 1st full week of October.
E-pay now available to purchase look on City Web page at:www.cityofeastpeoria.com
Currently approximately 50% of East Peoria's 7800 households are participating in the City's curbside recycling program.
Recyclables are picked up in East Peoria weekly along with regular solid waste.
Some of you may have some questions on how the existing program is handled. Well here are some commonly asked questions and answers.
Solid Waste Guidelines
There are specific guidelines for household refuse that are not recycled.
Trash must be out at curb by 5:00 A.M.
There cannot be more than 7 containers or bags per stop.
Liquids are not accepted.
Landscape waste or building materials cannot be accepted.
Cardboard boxes should be broken down and laid flat and if necessary cut into piece of about 3 ft. X 3 ft.
Your driver will place an orange sticker on your receptacle with a box checked indicating the problem.
Yes, but the mechanical device has a weight limit. Driver should not need to assist the mechanical lifting device as this could cause serious injury.
Any cans of old paint can be put in the trash if and only if they are dried out and solid. So take the lid off the can and let it sit. It there is quite a bit of old paint in the can put kitty litter in the can with it. That will make it dry out sooner.
Glass Recycling
Illinois Valley Glass no longer takes glass for recycling.
Peoria drop locations:
North Point Shopping Center
8721 N Knoxville
behind the complex
Sterling Bazaar
3311 N Sterling
behind Kroger's 24 hours
Midwest Fiber Recycling
11709 N Old Galena Road, Chillicothe
7am to 3:30 pm Mon – Fri
Tazewell County drop locations:
Midland Davis
Rt. 29 and Cynthia St
(next to the Tee Shirt house) 24 hours
Midwest Fiber Recycling
422 S, White Oak Rd, Normal, IL
8am to 4:30pm Mon – Fri
Pekin Midland Davis 353-3333
Midwest Fiber Normal 452-0064
Chillicothe 579-2605